Reach New Heights with Pole Saws at Forest Park and Garden
Welcome to Forest Park Garden's diverse range of Pole Saws, where convenience meets high-altitude performance. Our collection features top-quality pole saws from industry leaders like Husqvarna, Stihl, and Echo. Let's explore why a pole saw is an essential tool for your tree care needs and how to choose the best one for you.
Why Choose a Pole Saw?
Extended Reach

Pole saws allow you to reach branches that are high up, eliminating the need for ladders or climbing.
Precision Cutting

These tools offer precise control for clean cuts, making them ideal for pruning and trimming tasks.
Safety

Working from the ground reduces the risks associated with climbing and working at heights.
Versatility

Suitable for both professional arborists and homeowners, pole saws are versatile tools for various tree care tasks.
Price Range
Budget-Friendly

For those on a budget, the Husqvarna 120iTK4-P offers excellent performance at an affordable price.

Mid-Range

Consider models like the Stihl HTA 66 or Husqvarna 530iP4 for a balance of features and price.

High-End

For premium features and performance, the Stihl HT 135 or Husqvarna 525PT5S are top contenders.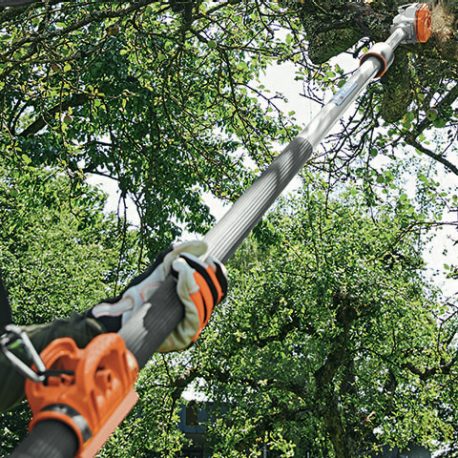 Telescopic Shaft
Look for models with a telescopic shaft for adjustable reach.
Ergonomic Design
An ergonomic handle and balanced weight distribution can make a significant difference in comfort and control.